Vocabulary
---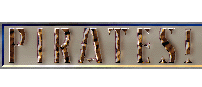 ---
pirate
To make an attempt, or to complete an attack on a ship. A thief of the seas, or oceans. Violence used to steal (by force) the property of another vessel. One who makes it his business to sail with the express intention of robbery or plunder. An armed vessel which sails without legal commission, with the intention of attacking other vessels in order to steal gold/treasure.
privateer
An armed vessel sailing under the commission of a sovereign power against the enemy.
buccaneer
A piratical adventurer of the sea. A person who plunders at the sea, or land from the sea. Also written buccaneer.
mariner
One whose responsibility it is to help in navigating a vessel.
merchant ship
A ship that is involved in trade/commerce. A cargo ship.
vessel
A general name for a hollow structure made to float in water for navigation, or travel purposes.
galleon
A large square masted vessel of the 1500's used for war, or commerce.
booty
Goods obtained illegally. Spoils obtained as a result of war or battle.
bounty
Reward or payment, usually from a government, for the capture of a criminal.
loot
Gold, money, or other goods obtained illegally
plunder
The act of pillaging or robbery.
cutlass
A short, heavy, single edged sword, once used predominantly by sailors.
mutiny
To rise against authority, particularly a naval or military power.
maroon
Isolate, and resource less. Sailors would leave mutinous shipmates on deserted islands, without any means of survival.
jolly roger
Typically a black flag bearing drawn white bones; indicates a pirate ship
---