Inmarsat-C
---
---
The Inmarsat-C satellite system provides two-way data communications to and from virtually anywhere in the world. Inmarsat-C terminals are simple, low-cost units small enough to be hand-carried or fitted to any vessel, vehicle or aircraft.
THE SYSTEM
Communications via the Inmarsat-C system are data or message-based. Anything that can be coded into data bits can be transmitted via Inmarsat-C. Messages are transferred to and from an Inmarsat-C terminal at an information rate of 600 bits/sec. Frequencies are 1626.5-1645.5MHz (transmit), 1530.0-1545.0Mhz (receive). Inmarsat-C is available in all four Inmarsat satellite coverage ocean regions — Atlantic Ocean East and West, Indian Ocean and Pacific Ocean — through about 40 land earth stations (LESs). A network co-ordination station (NCS) in each region controls communications traffic.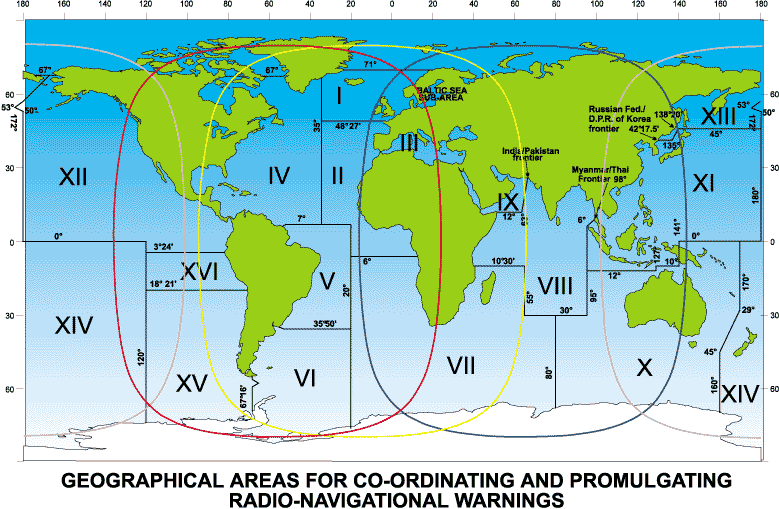 All inmarsat maritime systems make use of 2-digit codes to facilitate transmission and reception of various types of maritime information.
TERMINALS
The typical Inmarsat-C mobile earth station (MES) has a small omnidirectional antenna which, because of its light weight and simplicity, can be easily mounted on a vehicle or vessel. Directional antennas are also available for use in semi-fixed installations. The main electronics unit is compact, weighing only 3-4kg. Briefcase terminals are also available, bringing the advantages of the system to international business travellers and field operators.
Some terminals have built-in message-preparation and display facilities, others come with a standard RS-232 port so that users can connect their own PCs or other data equipment. The power requirements of Inmarsat-C terminals are modest and can be easily met from mains, vehicular or battery sources. Over 100 different terminal models from nearly 40 manufacturers have now been approved to operate with Inmarsat-C.
IMO requires that every Inmarsat-C ship earth station which forms part of the GMDSS, if installed on or after 23 November 1996, shall conform to performance standards as per IMO Resolution A807(19).
ENHANCED GROUP CALL
Inmarsat-C terminals can receive multiple-address messages known as Enhanced Group Calls (EGC). A special header is added to the text to indicate the group of mobiles or the geographical area to which the message is to be sent. EGCs can be transmitted in most languages or alphabets.
There are two main types of EGC:
SafetyNET provides an efficient and low-cost means of transmitting maritime safety information to vessels at sea and is used by hydrographic, search and rescue, meteorological and coastguard co-ordination authorities. Messages can be directed to mobiles in or approaching specific regions such as one of the the IMO NAV/MET areas or the sea area around a search and rescue incident.
FleetNET allows commercial information to be sent to a virtually unlimited number of predesignated mobile terminals simultaneously. It is suitable for use by services specialising in the distribution of news, stock exchange reports, sporting results, weather analyses, and road/port information.
SERVICES
Two-way messaging:

Inmarsat-C can handle messages up to 32kbytes in length. Each message from an MES is transmitted in data packets via satellite to an LES, where it is reassembled and then sent to the ultimate addressee via the national and international telecommunications networks. In the reverse direction, callers may send messages to a single MES or to a group of MESs.

Data reporting and polling:

Many Inmarsat-C users need to acquire information from vehicles or vessels, or to interrogate automatic data-gathering platforms at fixed or variable intervals.

Data reporting allows for the transmission of information in packets of up to 32 bytes on request or at prearranged intervals.

Polling allows the user base to interrogate an MES at any time, trigger-ing automatic transmission of the required information.

Position reporting:

Inmarsat-C terminals can be integrated with a wide variety of navigation systems to provide a highly reliable, round-the-clock global position-reporting capability. Position data derived from the terrestrial systems, satellite-based position fixing systems such as GPS or Glonass, and on-board dead-reckoning equipment can be transmitted automatically on demand or at fixed intervals.

Distress alerting :

Maritime Inmarsat-C terminals are equipped with a distress-alerting feature which, in the event of an emergency automatically generates and sends a priority distress alert, incorporating position and other information, to a rescue co-ordination centre.

GMDSS :

Inmarsat-C can be used to assist in meeting the Global Maritime Distress and Safety System requirements.

Internet e-mail :

Some LESs now offer internet e-mail via the Inmarsat-C service.
APPLICATIONS
Inmarsat-C is used in the land-mobile (road transport, railways), maritime (yachts, fishing boats, commercial shipping) and aeronautical (business and military aircraft, helicopters) arenas; by newsgatherers, international business travellers and aid workers; and for remote monitoring and data collection.
---