---
---
click on the map to zoom in!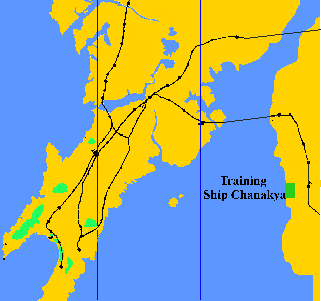 Training Ship Chanakya is located at the west of the Thane Creek near Nerul railway station in Navi Mumbai. The Nerul railway station is easily accessible since it lies on the harbour line of the Mumbai's suburban railway grid. It is about 40 Km away from Chattrapati Shivaji Terminus(C.S.T) or popularly known as V.T. and take around one hour to reach by local railway.
T.S.Chanakya lies along side the the Palm-Beach highway and is therefore well connected to the city and other near by places. It is about 10 Km away from the Jawahar Lal Nehru Port Trust (JNPT).
The nearest airport is the Chhatarapati Shivaji International Airport or popularly known as Sahar International Airport which is around 30 Km from the institute.
It is advisable to reach T.S.Chanakya by local train if you are coming from CST or airport since it is extremely cheap as compared to taxi cab which may charge around Rs 200 - Rs 300. After reaching the Nerul Railway Station you can reach T.S.Chanakya by auto-rickshaw.


Postal Address:
T.S.Chanakya,
Karave, Nerul,
New Mumbai-400706

Telegraphic address:
CHANAKYA KONKANBHAVAN

Telephone:
office:91-22-7703876/1935-36
hostel:91-22-7701880

PBX:
91-22-7700398

e-mail address:
tschanakya@hotmail.com

---