Laboratories
---
T.S.Chanakya is equipped with following laboratories:
---
Physics Laboratory:
The Physics Laboratory of T.S.Chanakya is a very well equipped lab with sophistecated and most advanced equipments fulfilling the thirst of the cadets. Experiments are performed in the lab under the guidance of extremely qualified lecturers(Mr.Puranik & Mr.Hegde).Experiments in general physics, elecricity and electronics can easily conducted in this lab. Here cadet use sophisticated instruments like CRO, modulation and demodulation kit, 8085 microprocessor kit and 23.5mhz computer etc to perform experiments and gain knowledge and learn practical usage of these instruments. In the lab other general physics experiments like western differintial pulley, fly wheel, marine sextant, He-Ne laser and other experiments which are helpful onboard ship are conducted to brushup the knowledge of the cadets.
TOP
---
MECS Lab:
The Marine Engineering & Control System Lab is very well equipped with machines and equipment extensively used on board a ship. It has got a lathe machine, grinding machine, air compressor, spot welding machines, arc welding machines, power driven hexaw machines, drill machine, milling machine etc. Here the cadets get ample opportunity to get trained for using these machines and equipment with accuracy.
---
SOT Lab: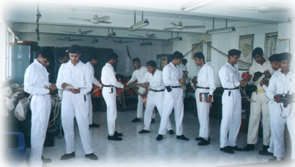 In Ship Operation Technology(SOT) Lab cadets are beign trained to use various commonly used equipments on board a ship like wooden and steel blocks, purchase and tackles etc. Here they are also trained to use and maintain various life saving and fire fighting appliances, like life buoys, life raft etc, with atmost perfection. These seamanship trainings are of atmost use on board a ship.
TOP
---
Navigational Lab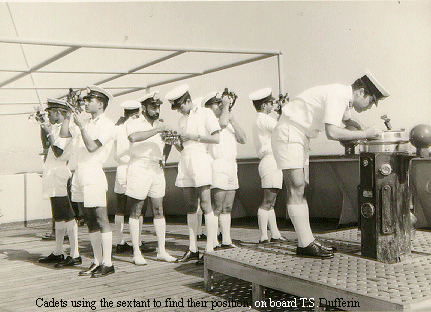 In the Navigational Lab cadets are taught how voyage planning is done and how ships are navigated at high seas and in coastal waters. The Lab consists ofmagnetic compass, gyro compass, marine sextant, marine chronometer, GPS(Global Positioning System)navigator, course recorder, echo sounder, marine VHF etc. The cadets are also taught about taking weather reports and sending them to appropriate authorities.
---
Chart Room
Here cadets are taught about voyage planning and how ships position is plotted on navigational charts. It comprises of many chart tables, parallel rulers, charts of various areas like English Channel, Dover Strait, Persian Gulf, approach to suez canel etc.
---
TOP
Computer Lab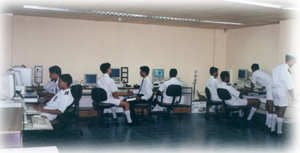 With the advancement of technology, the use of computers on board a ship has become essential for seafarers. In view of this the lab in T.S.Chanakya is installed with latest LAN system and other softwares so that cadets can get an on hand experience in the latest softwares.
---
TOP
GMDSS Simulator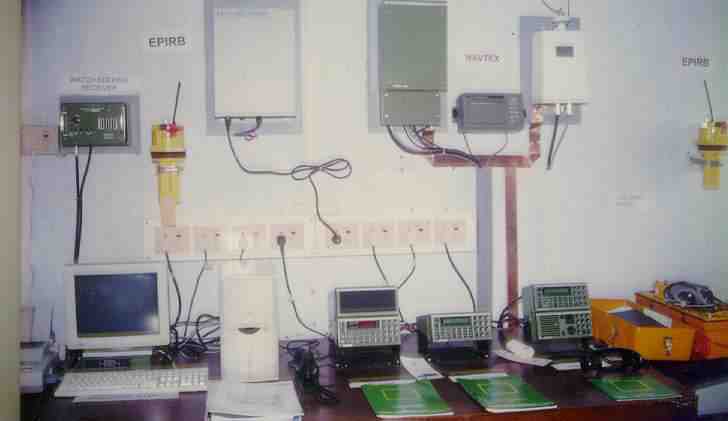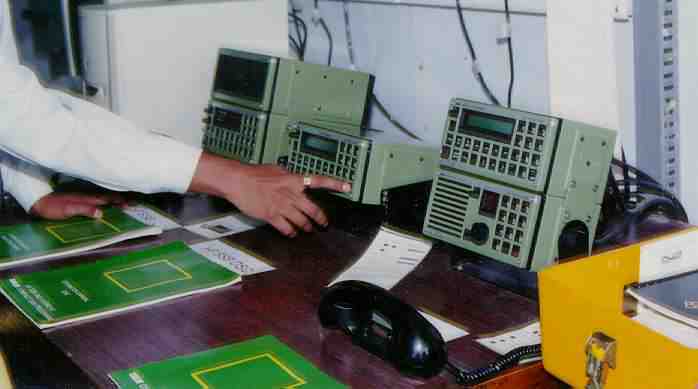 The GMDSS simulator is equpped with complete GMDSS equipments such as VHF sets, VHF DSC, HF/MF sets of DSC, NAVTEX, EPIRB, SART, INMARSAT A & INMARMAT C equipments, R/T walkie talkies etc. Here cadets are given practical training on use and maintenance of the above equipments. Soon the GMDSS course as per STCW requirements, is going to be started in Chanakya.
---
Fire Fighting Complex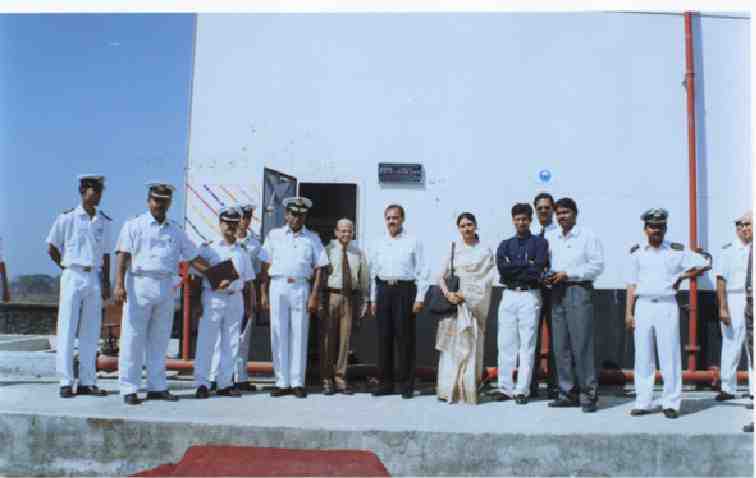 T.S.Chanakya has now started the fire fighting course in accordance with the requirements of Annex 1 of Resolution A437(X1) of the IMO and the provisions of regulations VI/I, section A-VI/I para 2.1.2 of STCW core. It consists of fire fighting lab fully equipped with most mordern fire fighting equipments and a ships mock up with efficient water management system. Here the cadets are trained to tackle real fire efficiently.
A trainee sucessfully completing this course will be enabled to react in a correct manner in the event of an outbreak of fire to take appropriate measures for the safety of personnel and of the ship, and to use the fire personnel and of the ship and to use the fire appliances correctly.
TOP
---