Facilities
---
Boat Pulling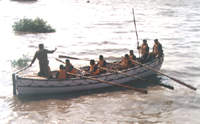 In boat pulling cadets are taught how to handle ship's life boat. Life boats are permanent boat equipped on a ship for emergency purposes. It is a life saving appliance used when the ship is abandoned such as due to fire hazards, collision etc. In Chanakya using the two life boats cadets learn how to row a boat, in case a propelling machinery fails, how to navigate it, how to handle it in rough weathers etc.
---
Sailing
Cadets under going three year degree course (Nautical sciences) are deputed to undergo on board training for a period of about six weeks on completion of second year. This gives them first hand experience of life at sea and familiarisation with the duties and responsibilities of various personnel on board the Merchant ship.
TOP
---
Swimming and other Games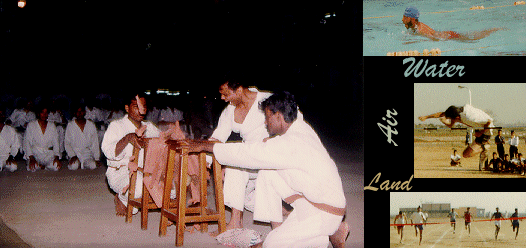 Swimming is compulsory for all the cadets. Cadets are taken to YMCA swimming pool, Belapur near New Mumbai twice a week by well qualified instructor. It is compulsory for all cadets to pass swimming test. Annual aquatic meet which is held annually on the second academic term gives the cadet to prove themselves in swimming. There is a proposal of making a swimming pool in the Chanakya premises shortly. In addition to swimming, other sports facilities for indoor and outdoor games like chess, carrom, volleyball, basketball, football, cricket, lawn tennis, table tennis, badminton etc. are provided. Here every year annual sports meet is also organised and winners are given away prizes in the Annual Function or the "Passing Out Parade-Function". T.S.Chanakya is very well equipped with two gymnasiums with up to date modern equipments in it.
---
Karate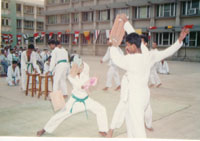 To built a sense of self defensiveness in the cadets karate is taught for them. It not only improve the cadets mental well being but also provides a excellent method of self defence. One of the Best Instructor Sheto-Ryu-Karate do Mr. Jogi Abraham who is 6th Dan Black Belt holder along with three other Black Belt holder comes twice a week to teach the cadets.
TOP
---
Library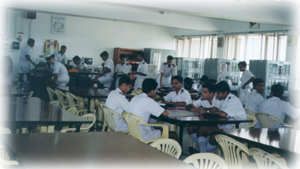 Chanakya library consists of over 10,000 books of interest of various topics. In addition to the technical books pertaining to Maritime studies, it consists of books relating to computer, general knowledge, sports, gardening, psychology. It also comprises encyclopaedia in addition to fiction both in English as well as Hindi. Weekly and monthly Magazines are regular features of the library. In addition to these Chanakya subscribes for more than 30 technical magazines and journals every month. CD ROMS and technical video cassettes are also available to the cadets on regular basis. The library has sitting capacity of more than 100 cadets at a time.
---
Shore Leave
Cadets in 1st year and Pre-sea cadets are permitted to go out of campus on Saturday and central govt holidays and 2nd year and 3rdyear cadets are permitted on Sundays and Govt holidays between 8.00 a.m. and 9.00 p.m. dressed in Chanakya uniform. No overnight shore leave is permitted. Shore leave on other working days can be provided in special circumstances.
TOP
---

Hostel
Both the three year B.Sc. course and the Three month Pre-Sea course are totally residential, so hostel facility is provided in the campus itself. The hostel is accommodated with all modern facilities for the cadets and is maintained by the institution itself.


---
TOP